Transition at St. Andrews Sathorn
At St. Andrews Sathorn, we believe that smooth transitions are vital to ensure our children feel safe and secure when changing year groups. Changing year groups can be an exciting time for children as they face new opportunities. Like all changes, it can also be a time of uncertainty, so at St. Andrews Sathorn we invest time and effort into ensuring our children feel prepared and reassured when facing change.
At St. Andrews, we value the importance of connecting with parents and believe that regular interactions between teachers and parents are vital to ensure our children have a smooth transition to their new year groups. We also recognise that transition can be a worrying time for parents, so we provide lots of opportunities for parents to meet their child's new class teacher and classroom.
During the school INSET day at the start of the year, parents are invited into school with their child to drop in and meet their child's new class teacher. This is a great opportunity for parents and teachers to meet so that any worries or questions can be addressed. In the first few weeks of term, class teachers also invite parents into school for a curriculum meeting. This meeting is designed to inform parents about the learning that will take place in the term ahead.
It is an opportunity for teachers to share teaching strategies that are used and inform parents how best to support their child at home. We encourage parents to attend these meetings so that they are aware of school life and can ensure their child settles into their new year group smoothly.
Transition from Early Years to Reception
An important transition we prepare our children for is the transition within the Early Years, such as from Kindergarten (KG) to Reception. Despite the KG and Reception classrooms being next door to each other, we recognise that having a new class teacher and a new classroom can be overwhelming for a 4-year-old, so we spend time preparing the children for this. For example, children interview older children to ask questions about their new year group. Children also visit their new classrooms for story time and other activities to explore their new surroundings and feel re-assured.
As the children grow and progress through the year groups, we continue transition activities to prepare them for their new classroom environments. Each year, children move to a different year group with a new class teacher.
At St. Andrews Sathorn, we are fortunate to be a small community, which enables our children to frequently interact with teachers from across the school. For example, teachers undertake lunch duties and extra-curricular activities every week, which is an opportunity for children to get to know teachers from different year groups. This enables the children to build relationships with teachers who are different to their class teacher, and aids transition to other year groups. When teachers know which children are in their class, they will meet each child's previous class teacher to discuss individual needs and ensure they can be supported during their transition.
Transition Morning
In Term 3, we have a dedicated whole school 'Transition morning', where children spend time with their new class teacher in their new classroom. The aims of this morning are to ensure children get to know their new class teacher and don't worry over the summer. This is also a chance to address any worries to reassure and excite the children about the year ahead. "Get to know you" activities will take place, which involves children undertaking a whole class art project linked to their new class name.
This activity aims to promote a sense of community and belonging for the children within their new class, which help to build their confidence when transitioning to the next year group.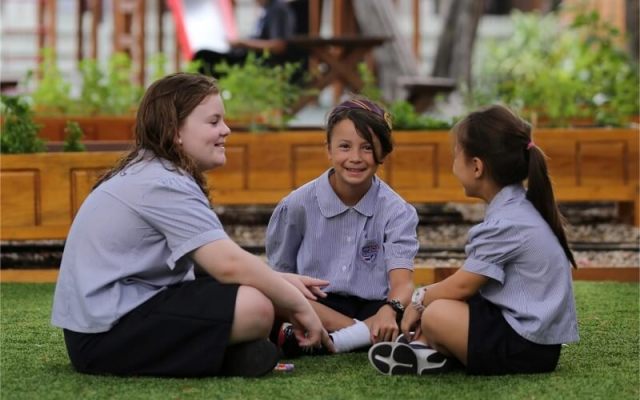 Secondary School Transition
The final transition we prepare the children for is the move to secondary school. Most of our children move to our sister campus St. Andrews Sukhumvit 107. We have a close relationship with this school and in order to build the children's confidence, children visit the campus to take part in special activities from Year 4 to Year 6.
These days are designed for children to experience secondary school life and enable children to take part in lessons from specialist teachers, such as Film, Chemistry, Drama and Design Technology. At St. Andrews Sathorn, we believe that these transition days are vital to build children's confidence and reassure them about any worries they may face when moving to secondary school.
Our sister campus: St. Andrews Sukhumvit 107 also recognises the worries parents may have when their child moves to secondary school, so when the children are in Year 6, they offer frequent coffee mornings and workshops to enable parents to connect with each other and ask any questions they may have.
We recognise that moving to secondary school is a significant change that can often be daunting for children. Therefore, in Year 6 the children undertake a personalised curriculum to prepare them for this transition. This curriculum is split into two parts. The first section encourages children to reflect on their feelings about moving to secondary school. We encourage the children to share any worries that they have, as well as things that they are excited for! We use this information to personalise the second part of this curriculum, where we share strategies for dealing with these feelings and have practical lessons to help prepare the children for secondary school. These practical lessons involve researching their secondary school online and learning how to read and use a timetable, where the children go on a classroom hunt around the school!
Preparing our children for transition is an ongoing process that happens throughout their time at St. Andrews. By constantly building our children's self-esteem, resilience and giving them strategies to cope with change, we believe that our children are well-prepared and have the skills and resources to have positive transitions throughout their school life and ultimately their future.
You may also read other articles about transition here:
Thought Leadership Article: Back to School the https://www.cognita.com/thought-leadership/back-to-school-the-3-rs-for-a-smooth-transition/
Written by
Miss Charlotte Rawlinson
Year Six Teacher
St. Andrews Sathorn